Welcome to Our Farm!
We would like your stay with us to be very relaxing and an enjoyable experience.
Begin Your Day with a Hearty Breakfast
Relax and enjoy your personal country retreat with the breakfast of your choice.
We offer an ever changing menu which includes fresh fruit and home baking.

#1 Continental Style Breakfast:
fresh fruit Muffins or Shirl's Cinnamon buns;

#2 Lifestyle Breakfast:
choose cold or oatmeal cereal served with sliced bananas or berries & can include any portion of a traditional breakfast if desired;

#3 Traditional Breakfast

:


eggs on or with toast ( whole grain home-made) served with pan-fried potatoes, ham, sausages or bacon; or

#4 Or, Perhaps something a little different

. . .

a) Apple Oatmeal Pancakes:
served with apple-maple syrup;

b) Bacon & Egg Frittata
lightly seasoned, shredded hash browns, eggs, cheese, bacon & green onions - garnished with mushrooms/disced peppers/tomatoes; or

c) Belgian Waffles
served with your choice of strawberries or blueberries with whipped cream

Breakfast is generally served between 8:00 & 10:00 a.m.
All breakfasts are served with juice, tea or coffee, accompanied by a fruit side dish.
Please advise us in advance of your preferences or any allergy concerns.
Coffee, Tea, etc ...
Please feel free to use and enjoy what basics we have made available in the Cottage Kitchenette.
If something is cooking in the main house, you may want to stop in for a sample ...
for your enjoyment!
Satellite TV is Available
Pay per view movies are available by calling the main house, we would be happy to order it for you.
Animal Companions
Visiting pets and horses may be accommodated with advance approval.
Smoking
Smoking is not permitted in the cottage, barn or main house, outdoors only please.
Bright green cans have been made available in different locations on the farm.
BAR D6 COUNTRY RETREAT RATES*
Weekly or Monthly Rates can be negotiated.
Rates* based on double occupancy. Additional guests: $15.00/guest/day.
Single or Family rates available.
Hunters are Welcome ... Bar D6 is located in WMU #348
Reservations are recommended
Cash or Cheque accepted at this time
Check-In between 4:30 - 6:30 p.m. ~ Check-Out: 11:00 a.m.
If arranged in advance these times may be adjusted to suit your travel schedule.
BAR D6 COUNTRY RETREAT LOCATION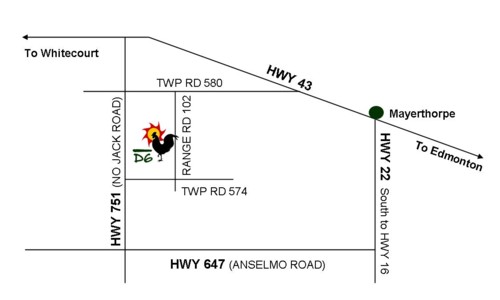 9 1/2 miles off Hwy #43, just 15 miles west of the Town of Mayerthorpe